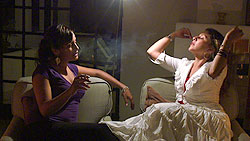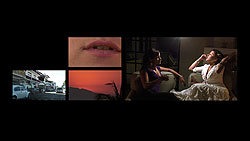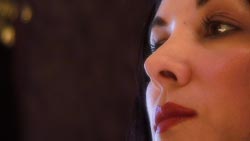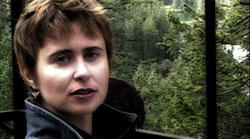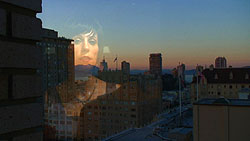 Synopsis
The Strange Case of DJ Cosmic is a 22-minute HD film in five parts, delivered by three actors, using non-linear narrative based on beat poetry. Five videostories spiral in and around the main actors' text, and are delivered by eight women in five languages (English, French, Spanish, Italian and Portuguese) and six locations (Vancouver, San Francisco, Banff, Puerto Vallarta, Guadalajara, and Montreal).
CAST and SET
The main set features a HD videoconference for a virtual coming-together of the three principal actors: DJ Cosmic, Johnny, and Loretta.
DJ Cosmic, a wise though fallen man, is isolated in a large space, a networks room, thousands of miles away, within a research facility. His contact with the outside world is confined to a series of HD video monitors.
Johnny (son of DJ Cosmic), a talented and rebellious young man, and Loretta, symbol and figure to both men (wife; mother; muse), are in a time-suspended, virtual location with multiple monitors, screens, and projections. DJ Cosmic's sense is failing. Johnny is detached. Loretta is confident, playful yet innocent.
Dialogue for the five movements, between DJ Cosmic, Johnny, and Loretta, is set within the framework and network-specifics of a HD videoconference, a portal world and its own dream.
Five videostories stream from the monitors, sometimes attracting the main trio's attention, interrupting conversation, sometimes not. The eight women (sirens; facets of DJ Cosmic, Johnny, and Loretta's subconscious) draw from and manipulate the text of the main trio, acting as a sort of Greek chorus, or baseline. English text runs simultaneous for clarity.
The HD videoconference broadcast set interpolates throughout the film; sometimes in full screen, sometimes as a singular dynamic (moving) screen within a multi-screen format. Other videoconference techniques, their latency and resolution are also incorporated and include iChat, Polycom, videoSkype, and vlc multiscreen montage.
The film explores thresholds of intelligibility with simultaneous text and streamed perception. DJ Cosmic's existential journey, with commentary and paraphrase from the eight sirens (as in Greek drama), combines themes of desperation, privacy, emotion and hope, spun into a hip, rhythmic landscape of jazz, trance, jungle, dream and pulse. The project is all shot in HD.